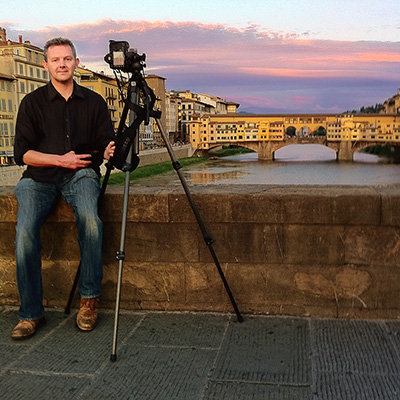 Ian is an award-winning fine art photographer living with his wife in the beautiful countryside of North Wales.
He loves photographing both the natural landscape and also the architecture of our built environment. The UK and Europe is a densely populated place and he is fascinated by the way in which the two elements of the natural and built environment often merge to produce a landscape that shows our human influence stretching back through the generations.
There are five main things that Ian aims for in his photography:
Beauty
Beauty can mean many things to different people but, as a fine art landscape photographer, Ian is interested in photographing the natural beauty and visual drama of our urban and rural environment. This beauty and drama is emphasised by finding great subjects and light and by keeping the composition of his photographs as simple and direct as possible.
Our modern world is so complex and fast moving that this simplicity and directness can be a real pleasure in itself and it's something that Ian actively looks for when composing his photos in the camera viewfinder.
Simplicity
Mood and expression are important aspects of Ian's photography however his preference is for that of suggestion rather than prescription. The most captivating fine art photography in his opinion is like poetry where an elegant economy of words is used to suggest deeper meaning.
Great Light
Photography is all about the interplay between light and dark. Interesting and dramatic light can result in wonderful and truly memorable fine art photographs.
Truth
The strength of photography as an art form and the thing which makes it different from other forms of art is that it is fundamentally connected with reality. There is, however, a dichotomy in the idea that photography represents truth - no photography is truly objective because all photographers make subjective decisions about what they choose to include in their photos and what to leave out. Perhaps a better way of considering the idea of 'truth' in this context is that a great photo represents truth from the perspective of the individual photographer.
Individuality
The best landscape photography is all about one person's individual vision and how they perceive the world in which they live.
More info here:
Blog Article August 2012